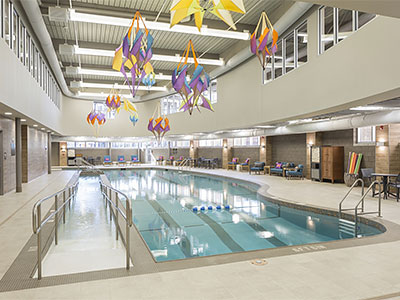 The architectural design requirements for your project will be defined by multiple factors. At Architects Design Group, we have the experience, qualifications, expertise, and commitment to deliver on or exceed your expectations. We are a fully licensed and insured architectural design company in Ann Arbor, MI. Explore the different types of projects that we handle for our clients throughout the region.
Churches
We design churches and other religious buildings and spaces including cathedrals, chapels, and shrines. Your community may be planning to build a new church, add to an existing sanctuary, or create a new activity center for congregation, we have the experience and expertise to handle the challenges in designs. We have been providing architectural design services for churches for over 33 years. From minor renovations and additions to complete relocations of churches, our design services can be tailored to your specific needs.
Our architects have the experience and qualifications to design modern or traditional churches. We are strong believers in the fact that churches have a central role to play in communities and have an important role to play in the life of all the members. Our architectural design experts will work closely with you on all the areas of the master plan to create a space that inspires everyone in your community. Read More About Churches >>
Office Buildings
From designing your new office building to remodeling an existing one, our architectural design services help create functional and aesthetically appealing spaces. Design has an important impact on not just how your business appears to the world, but also on the effectiveness of your team. We have the experience and knowledge required to address all the key factors when designing offices of all sizes and types. Some of the most important factors include corporate culture, team communication, and value engineering.
Quality office design will focus on creating more flexible workspaces. This can have a significantly positive impact on your business, especially in areas where there is high turnover. We design office buildings that add to your brand image and benefit by attracting new business, enhancing employee morale, and facilitating workflow and communication. With over three decades of experience, we have mastered the art of creating more efficient and effective spaces. Read More About Office Buildings >>
Multi-Unit Housing
We design multi-unit housing in both urban and suburban areas across the region. With decades of experience working with developers and owners on both single and multi-family units, we have an in-depth understanding of all the different needs. This allows us to design your projects while keeping your vision and ideas in mind. We create designs while addressing all the key factors and requirements. This can include revitalizing the existing urban areas, promoting pedestrian activity, reducing land consumption and sprawl, encouraging efficient energy usage, and creating more livable communities.
Over the decades, we have worked on a wide range of projects for different types of clients including private clients, public housing authorities, municipal authorities, and even non-profits. And we design all types of housing, including condominiums, apartment buildings, multi-family homes, duplexes, and quadruplexes. No project is too big or too complex for our experienced and qualified team of architects. Read More About Multi-Unit Housing >>
Senior Living
We strive to innovate and improve senior living community design, as senior living is always being redefined and improved. We understand the need to address the growing demands for places to live that can adapt to all the different stages of life. Our architects rely on specialties in healthcare design, universal design, and various other skill sets to create comfortable living spaces. These spaces allow the residents to age gracefully, comfortably, and conveniently, while also creating an environment for the supporting family or staff to engage optimally.
Designing senior living spaces needs to address many factors including independence, technology requirements, care levels, and more. Our experience allows us to carefully set the right balance between the need for care and independence. We also draw upon our design expertise in the areas of healthcare, multi-family housing, and mixed-use follow an innovative approach to this unique segment. Read More About Senior Living >>
Recreation Buildings
Our recreational facility design services are focused on bringing greater joy to guests and returns to owners. Whatever the type of facility, we will spend time to understand our client's unique needs. From gymnasiums to arcade gaming to club rooms, we have designed all types of recreation facilities. We have specialized teams with the right experience and expertise to work with all the stakeholders to create the ideal design solution addressing all the key parameters.
When it comes to recreation buildings, we are driven by the mission to create spaces where guests find optimal relaxation and owners can save energy through sustainable design. Many of the recreational facilities we have designed have achieved sustainable design certifications. Besides, others are sustainably designed and have been officially recognized. Besides their functional and energy-efficient designs, our recreational facility designs are created to turn heads. Read More About Recreation Buildings >>
Municipal Buildings
The design of municipal and civic buildings is an evolving sector in the field of interior and architecture design. We have decades of experience working on such designs that are highly regulated and come with a unique set of design challenges. Whether you need new building design or renovation design services, we have the experience and knowledge to address your specific needs. We specialize in creating inspiring civic interior designs.
Like any other architectural project, municipal buildings can vary. Over the years, we have completed a versatile portfolio of government building designs including civic institutions, exhibits, and even galleries. We understand the challenges and limitations that come with civic building designs. We have the expertise to help our clients fully understand and analyze different needs to determine the scale and features to be included in the projects. Understanding and managing design needs is an important step in the process of controlling project costs for our clients. Read More About Municipal Buildings >>
Residential Buildings
From new residential building design to remodeling, we provide architectural design services for all types of projects. Residential architectural design is more versatile than almost any other sector. We have the experience, skills, and qualifications required to deliver on the unique and custom demands of our clients. We begin by understanding your unique needs and preferences. And we can also claim without prejudice that our clients always gain deeper insights and understanding of their own housing needs from our experience and knowledge. This helps you plan a better design to address the functional and aesthetic needs of your family.
Part of our architectural design service is to help you visualize your building and spaces through technology before the construction begins. We also have the experience to address challenging design needs based on special circumstances. From new residential buildings to additions to extensions and renovations, we provide design services for all your project needs. Read More About Residential Buildings >>
If you want to learn more about our architectural design projects and services, feel free to get in touch with us. You may call us at 734-995-4015 or write to us using this Form and we will get back to you at the earliest.
We Provide Services to the Following Cities, Towns and Surrounding Regions of MI:
Ann Arbor, MI
Detroit, MI
Livonia, MI
Novi, MI
Ypsilanti, MI
Plymouth, MI
Farmington, MI
Lansing, MI
Dexter, MI
Northville, MI